We offer Advanced Training
Innovative Product Launches
For Professionals
Offer your clients innovative, effective and certified organic skin care products! With over 45 years of experience, Nelly De Vuyst® is a premium skin care brand with a longstanding reputation as one of the most effective skin care lines on the market.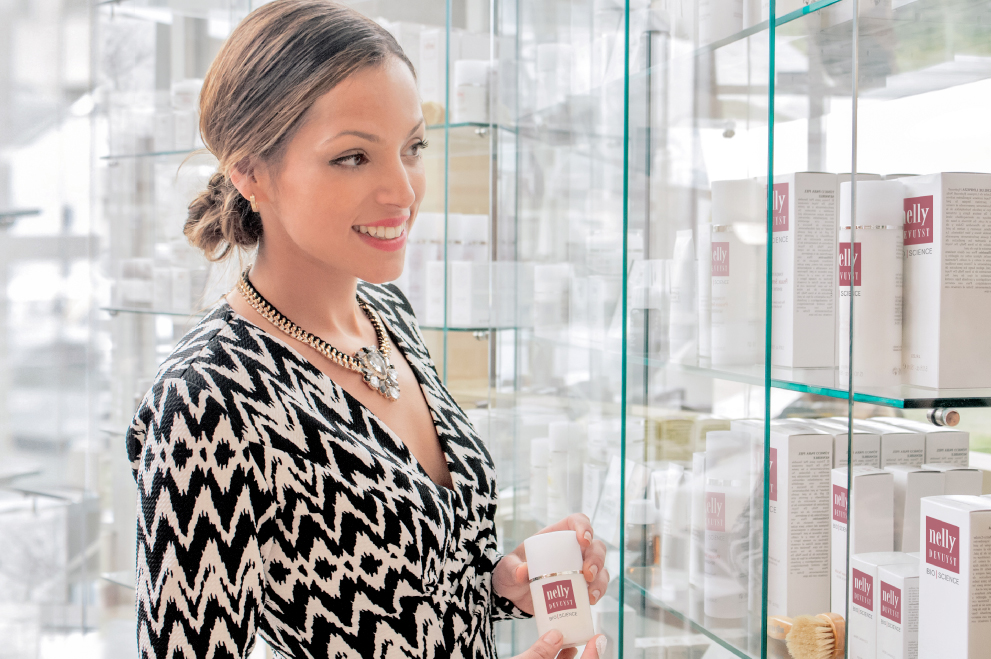 Become a Partner
We are here to support and fast track your business' success.
Nelly De Vuyst® continuously invests in growing your business through superior advanced trainings and educational programs, exclusive product offerings, outstanding customer service as well as marketing and public relations support.
PARTNER PROGRAM
If you are interested in partnering with us, please fill in the form below and one of our sales representative will contact you shortly.
Your success is our priority…
Fast track your business by taking advantage of the benefits of our Loyalty Program.
Our program is designed to help you attract new customers, maintain existing customer satisfaction, increase your technical expertise, motivate your employees, gain a stronger online presence, generate greater revenues and increase profits!
I chose to bring Nelly De Vuyst product line into our practice because we felt that it filled what we were missing. Nelly De Vuyst beautifully blends luxury with results which is very important for our clientele. The product line complements our services perfectly and is attractive to our clientele. Our clients love Nelly De Vuyst. They are seeing immediate visible results, they love that each product performs at least a double duty. I am very pleased when our clients tell us how much they love a new product or service we provide for them.
When I became self employed I had the opportunity to chose the skincare products for my clients. After extensive research, I chose Nelly De Vuyst as the highest performing line. But in addition to the fast results in all skin conditions, I am absolutely amazed at the support this company offers to it's clients. In six months I've already been to four training sessions and the annual symposium where it became evident that the company is following the latest science discoveries and constantly developing new products.
Using Nelly De Vuyst products exclusively has made Skinlux a haven for clients who have sought high end products together with the latest technology available for best skin care results. We are proud of the positive response to what we call the 'Nelly Experience' that is described as relaxing, high quality and uniquely effective. Nelly De Vuyst has made us one of the most reliable skin care center in the country and has allowed us to reach out to more people who value good health.
I am specialized in Age Management Medicine and I have been treating men and women for over 30 years internally with bio-identical Hormones & Thyroid replacement therapy. In 2010, I expanded my practice and opened a medical spa in the hopes of helping patients feel well externally. I added Nelly De Vuyst and the Sheerwave Face & Body Technologies and things took off and has been successful helping patients feel well inside and out.
I have been a salon owner working as an aesthetician for over 33 years. I have been using Nelly De Vuyst products personally and on my clients since the start of my career. I attribute a lot of my success as an aesthetician to using Nelly products.
I am excited about the new products that Nelly is coming out with and look forward to future business.
I have been using the new Bio Organic line and have been very pleased with the product. I would often times lose sales to Nelly because clients were looking for an organic product. I am now able to offer clients an organic option that I am confident in. I like that the line is versatile and I can use it on both young and mature skin as well as my clients with sensitive skin. The BioTense Extract and BioTense Eye Contour Gel have been top sellers with the most repeat business.
I am so incredibly happy with my skin!I get so may compliments and I haven't been able to remove my acne in years and with the bioacne combined with the other products it has reduced significantly. Plus I love all of the skincare! I have been using the eye serum as well and my puffiness has completely gone away and people have noticed
I personally am using the BioTense Organic line for my everyday routine. Before this product I was not able to use anything or establish any routine as my skin is highly sensitive, and breaks into rash and redness. Once I stared using Nelly, I have noticed that my skin is more hydrated and bright, not to mention super soft. I was advised to use the cream as well as the extract oil, and it has truly been a changer for me.
The Nelly De Vuyst line is the only line we carry because, as a team, we definitely believe in this line. We all use it and it is definitely effective.